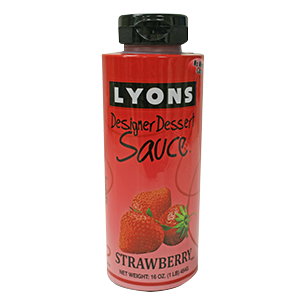 Who can resist the luxurious flavor of our Strawberry Designer Dessert Sauce? This favorite summertime flavor is packed in an easy-to-squeeze bottle to create the most stylish desserts. From ice cream and frozen yogurt, to cakes and pies, drizzle on deliciousness to a variety of sweet treats.
Other Uses
Shakes, smoothies, cheesecakes, sundaes, breakfast pastries, cocktails, mocktails and more. 
Net Weight
1 case of 12 bottles. Each bottle is 16 oz (454 g).
Storage & Shelf Life
Store unopened, ambient for up to 360 days
Store opened, ambient for up to 14 days
Ingredient and nutritional information is continuously updated. Please always check the physical label on the product you receive to verify nutritional information.