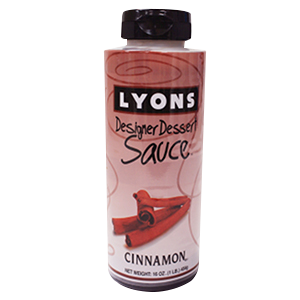 Sweet with a hint of spice, our Cinnamon Designer Dessert Sauce hits all of the right notes. With an easy-to-squeeze bottle, the possibilities are endless. Swirl over classics like apple pie a la mode or trade in your daily black coffee for a spiced beverage like a horchata latte.
Other Uses
Coffees, cappuccinos, pancakes, waffles, French toast, pastries and more
Net Weight
1 case of 12 bottles. Each bottle is 16 oz (454g)
Storage & Shelf Life
Store unopened, ambient for up to 540 days
Store opened, ambient for up to 10 days
Ingredient and nutritional information is continuously updated. Please always check the physical label on the product you receive to verify nutritional information.