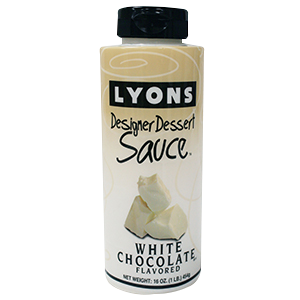 The perfect complement to any recipe is our White Chocolate Designer Dessert Sauce! The easy-to-handle bottle will allow you to add a whole new level of excitement. Stir in with chocolate to create a zebra mocha, or drizzle over chocolate covered strawberries for a spectacular presentation. 
Other Uses
Fruit desserts, pastries, cocktails and mocktails
Net Weight
1 case of 12 bottles. Each bottle is 16 oz (454 g).
Storage & Shelf Life
Store unopened, ambient for up to 360 days
Store opened, ambient for up to 14 days
Ingredient and nutritional information is continuously updated. Please always check the physical label on the product you receive to verify nutritional information.